I wanted to get a smile makeover, but my dentist said I cannot have porcelain veneers because my top teeth cover my bottom teeth in what he calls an overbite. Instead, he wants to do six dental crowns. Will that work? Should I get my bottom teeth whitened so they'll match the crowns on my top teeth?
Farah
Dear Farah,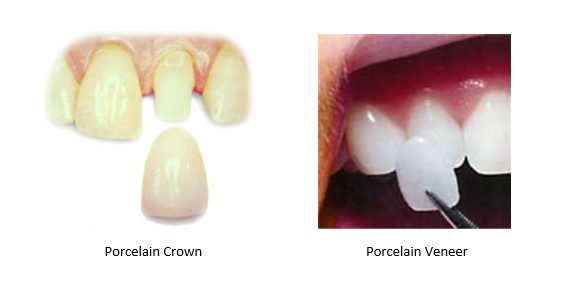 We see this a lot with family dentists. They don't have cosmetic dentistry training and do not know how to do porcelain veneers, so they tell their patient that they need porcelain crowns. There are a few things to be aware of with this.
First, smile makeovers are not taught in dental school. Putting one crown on a decayed tooth is a LOT different than doing a smile makeover with crowns. If he can't make porcelain veneers look beautiful, he can't make dental crowns look beautiful. You will not want him to do your smile makeover.
Second, as pictured above, dental crowns require your natural teeth to be ground down to numbs. If they are healthy, why would you want to do that? Porcelain veneers on the other hand only require minimal tooth preparation.
Third, if you have an overbite, it makes more sense to get veneers instead of crowns. Porcelain veneers only go on the front of your teeth and hug the sides a bit. Porcelain crowns on the other hand have to go around the entire tooth. They will bump up against your bottom teeth.
My advice, find a dentist who is experienced in placing porcelain veneers to do your smile makeover. Make certain they place your veneers with a temporary try-in paste so you get a look at them before they are permanently bonded on. If you are not thrilled with the results, they should go back to the lab.
As for the teeth whitening, you will want to whiten both the top and bottom arches before having the veneers done. Most smiles are eight to ten teeth wide. If you only get six veneers, you will want the adjacent teeth to match.
This blog is brought to you by East Cobb Dentist Dr. Cristi Cheek.
Click here to learn about our free virtual smile makeover consultation.