If you have a cavity, what type of fillings should you have in your teeth? If you are aware of the relationship between your oral health and overall health, you likely prefer composite fillings over silver amalgam. At Cheek Dental, we understand your concerns and provide composite fillings that are healthier for your teeth and look natural.
Why the Concern Over Amalgam?
Amalgam ("silver") fillings contain about 50% mercury—more mercury than silver or other elements. According to the American Dental Association, amalgam fillings are safe. Yet, some studies reveal that chewing releases small amounts of mercury vapor from amalgam fillings. Many people are concerned about how the vapor release will affect their health, so they want mercury-free alternatives.
Why Our Dentists Prefer Composite Fillings
We prefer mercury-free composite fillings for several reasons:
Composite bonds to your teeth and strengthens them. Amalgam fillings corrode as they age, separate from teeth, and leave them weak and prone to decay.
When a tooth is prepared for a composite filling, less healthy tooth structure needs to be removed.
Composite insulates teeth and makes them less sensitive to heat and hold.
They look better because they are metal free. A shade is chosen to closely match the color of your natural teeth.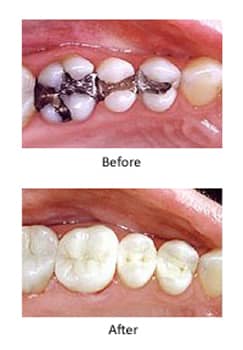 The before-and-after pictures on this page show old amalgam fillings that corroded, separated from the teeth, and left gaps for bacteria to leak in and cause decay. The old fillings were replaced with composite to protect and strengthen the teeth and lock out bacteria. They look natural, too.
Healthy Long-Lasting Fillings
It takes more time and advanced technique to place composite fillings. Dr. Cheek and Dr. Chandler are cosmetic dentists who have the training and experience required to provide you with healthy natural-looking fillings that last. They take the following steps:
Provide sanitary amalgam removal for fillings you want replaced with composite
Use high-quality composite materials
Carefully prepare, bond, and seal fillings to ensure proper function and beauty
Ensure fillings are correctly positioned so you can bite with comfort and ease
Are You Interested in Composite Dental Fillings?
At Cheek Dental, we ensure you understand what is needed to help you maintain good oral health. We also listen to your treatment preferences, including white composite fillings.
Call us to schedule an appointment, or complete our Request an Appointment form.