Dental implants are the best way to replace missing teeth because more than just the appearance of your smile is affected. In Marietta, Dr. Cristi Cheek and Dr. Kristina Chandler have advanced training in placing dental implants. They can also restore them with beautiful crowns that look completely natural.
What Are Dental Implants?
A dental implant is an artificial tooth root, usually made of titanium. It is surgically placed in your jawbone, and after a healing period, a dental crown is attached to it. Implants look and function like natural teeth.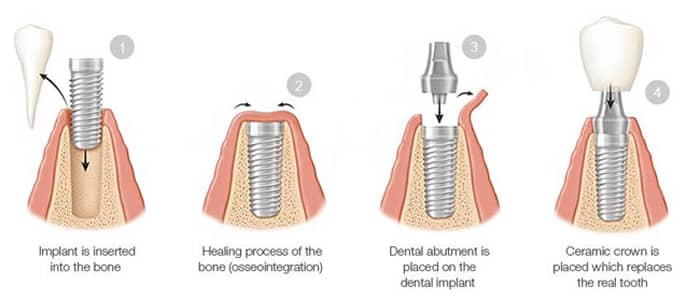 The Benefits
Dental implants are healthy and beneficial for your smile in several ways.
When a tooth is missing, other teeth drift toward the empty space. Dental implants fill the space and help keep teeth aligned.
Your body reabsorbs the bone from spaces where teeth are missing. If all of your teeth are missing, jawbone shrinkage will cause your facial muscles to sag. Implants stimulate jawbone and prevent shrinkage and facial collapse.
Implants look, feel, and function like natural teeth. They are much more comfortable than a partial denture or a dental bridge.
They last longer than other forms of tooth replacement—often for a lifetime.
When all of your teeth are missing, implants can be used to support dentures.
Dental Implant Options
Single Implants
Each missing tooth can be replaced with a dental implant.
Implant overdentures
Four to six dental implants are used to anchor an arch of dentures. When several implants are used, they stimulate a wider area of the jawbone and help prevent shrinkage.
Mini implants and snap-on dentures
These options will support your dentures and prevent them from falling out. Although they are more affordable than four to six standard implant fixtures, your dentures won't be as stable.
Mini implants – They are smaller in diameter than standard fixtures, and as few as two implants can be used.
Snap-on dentures – Two standard dental implants are used, and the base of the denture snaps onto them.
After Implant Placement
During a healing period of three to four months, your jawbone fuses to the dental implants, a process called osseointegration. Our dentists restore dental implants with lifelike crowns. If all of your teeth are missing, you can receive cosmetic dentures with high-quality teeth that look natural.
The before-and-after photographs below show the smile of one of our patients who was born with her lateral incisors missing. Dental implants were used to replace the missing teeth, and porcelain crowns were attached to them. The implants blend with the patient's natural teeth and beautifully enhance her smile.
This patient had worn a removable prosthesis for years to replace her missing teeth but wanted something more permanent. Her remaining few teeth were removed, 6 implants placed, and a full set of teeth were fixed to the implants. Now this patient can smile and chew with confidence.
Which Option Is Right for You?
Dr. Cheek and Dr. Chandler work closely with specialists to ensure you receive high-quality implant placement. Together with our periodontist or our oral surgeon with whom we have worked for many years, we will review your medical history to ensure you're a candidate for this treatment. 3-D diagnostic radiographs will be used to determine if you have enough bone density for implants, to identify the best location for the fixtures, and to prevent implant mistakes.
If you are interested in the healthiest, longest-lasting solution for replacing missing teeth, contact us to request an appointment for an exam or a consultation.