Here at Cheek Dental we are certified to provide Botox and dermal fillers services.
We know that our muscles control movement, but did you know they also control how our faces look? They also show how we feel.
The images below are a great example of how your muscles affect your appearance. This is a patient we treated in our office. The furrows in her brow make it look like she is angry or worried. With some simple Botox injections, her countenance has gone from scowl to smile.
Lines and wrinkles like this can also make you look older.
How Does Botox Work?
As a neuromuscular inhibitor, Botox relaxes the muscles that create lines and creases in your face. You will see results anywhere from three days to two weeks after your injection. The results will continue to improve throughout its lifespan. All those tension lines and creases simply disappear and stay gone for a time span of three to six months.
We'll start by cleansing your face. Then, we'll mark the injection sites. Next, using a thin needle, we'll do the quick injections, and then repeat the facial cleanse. It is that simple. When the effects wear off after three to six months, you can have a repeat treatment.
Dermal Fillers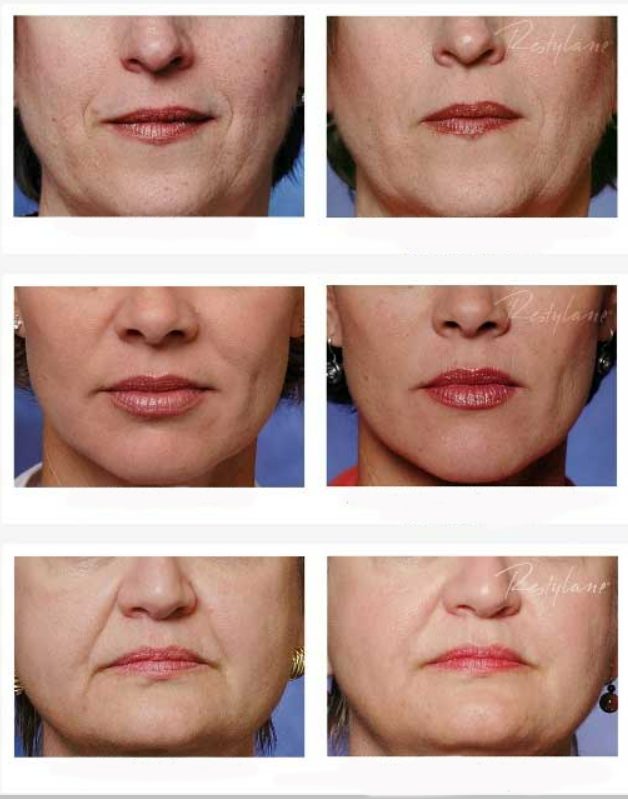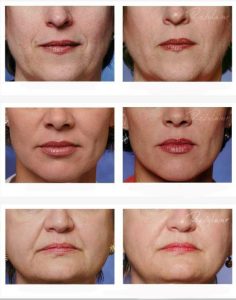 In addition to Botox, we offer dermal fillers. These are hyaluronic acid compounds that are naturally found in both animals and humans.
Because it is highly attracted to water, it works by holding the water under your skin's surface removing creases all while feeling completely natural to the touch. The results generally last between eight months to a year.
As you can see from the images on the left, filling in the creases helps to bring a more youthful appearance to your face.
Because it is a natural compound, there are very few potential side effects. Occasionally, a patient will experience some slight bruising or swelling at the injection site but it is gone within a day or two.
Botox Treatment for TMJ Disorder
Botox has also been shown to be effective in treating TMJ disorder. Many cases of TMJ disorder are characterized by muscular spasms and pain due to tension in those muscles. Since Botox causes muscles to relax, it makes sense that this would provide relief. Patients report relief from TMJ headaches, from limitation of jaw opening, and relief from other symptoms.
How Does Botox Work for This Disorder?
Located at the point where the jawbone meets the skull, the temporo-mandibular joints are a very complex joint that allows the lower jaw to move up and down, forward and back, and from side to side. If this joint is overworked through excessive teeth grinding, or if there is lack of harmony in the bite, a person may suffer serious headaches or other pain. Botox relieves jaw tension by making the muscles unable to engage in the powerful, often unconscious movement of the jaw that produces headaches and pain.
A non-surgical procedure, Botox injections are administered by one of our dentists. Most patients experience noticeable improvement within from one to seven days of their first treatment. Injections then need to be repeated every three to six months.
If you are considering either Botox or dermal fillers, you may call our office or click this request an appointment link for a consultation.