If you are in pain with a toothache or dental trauma, call us now (770-338-6774). We always leave room in our schedule for dental emergencies, and if you call during office hours, Dr. Cristi Cheek or Dr. Kristina Chandler will see you today.
Judgment-Free Zone
You will not be lectured when you come to our office. We realize many patients avoid dental care because of traumatic experiences in their past, and we will never minimize that. You will be treated with respect and compassion no matter how long it has been since you've been in a dental chair.
Our first priority is to diagnose your problem and get you out of pain. From there, it's easier for you to focus, and we can talk about any further treatment that may be necessary for a permanent solution. We will never pressure you into anything and will always explain all your options.
You'll find our staff gentle and patient. They will explain everything that is happening throughout treatment and pause if you need a break. We want this to be a positive experience for you.
Examples of Dental Emergencies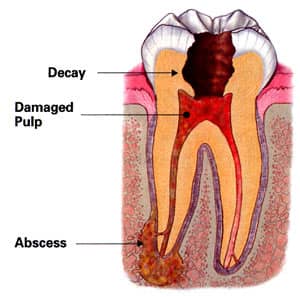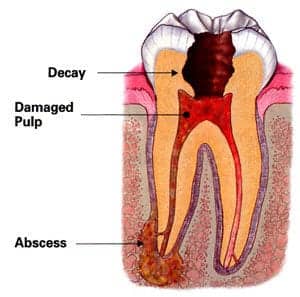 Anytime you're in pain, it is usually a sign of a dental infection. It's your body's way of warning you something is wrong.
Looking at the illustration to the right, pain usually starts with decay. Sometimes a patient can feel decay and sometimes they can't. If it's not detected and treated, it will continue to spread. By the time it reaches the pulp of your tooth, you will definitely have pain. The infection will continue to spread until it has nowhere to go. That's when an abscess will form. It usually looks like a pimple on your gums.
This requires dental care to resolve. Dental infections are different from other types of infection because of the structure of the tooth. Just taking an antibiotic isn't enough.
If you've broken or cracked a tooth, you should be seen ASAP. We want to avoid any further damage so the tooth can be saved. We will determine why it broke, do a temporary repair if necessary, and explain your options for permanent treatment.
A chipped front tooth can often be repaired with dental bonding so that it looks like nothing ever happened to it.
This is the most time-sensitive issue. There is a possibility the tooth can still be saved, but you'll need to get into our office quickly—ideally, within 30 minutes. Call us to let us know you're on your way and that you have a knocked-out tooth. We want to be prepared with the necessary materials to treat you promptly.
Only hold the tooth by the crown, never the root. If possible, put it in a glass of milk or in a moist (not soaking wet) towel to keep the roots moist. Otherwise, it's okay to put it between your cheek and gums to keep it moist.
Our goal is to help you leave our office smiling and feeling good about your teeth and the dentist. If you have a dental emergency, call our office now (770-338-6774).