Implant-supported dentures minimize many of the concerns people have about dentures. They will improve the function, look, and feel of your dentures and help you smile with confidence. Below is an actual case done in our office.
What Are Implant-Supported Dentures?
Implant-supported denture are dentures that are supported by dental implants. Implant fixtures are surgically implanted in your jawbone. After the implants fuse with your jawbone, your dentures will be attached to them. Your dentures will be stable.
Treatment Options
There are a number of ways implants can be used to support a denture.
An implant overdenture or snap-on denture. The implants are given snap attachments and the females of these attachments are embedded in your denture. For the most economical option, only two implants are placed. Four or six implants will give it more stability. You can then take the denture out at night for cleaning. When the snap washers wear out, you can come back in and we'll replace them.
A hybrid denture. A hybrid consists of the replacement teeth and some pink-colored acrylic to simulate the gum tissue. The denture is attached to the implants with screws, so it is more secure than a snap-on denture. Usually four or six implants are used. The All-on-4 denture is a special type of hybrid that is used when there is little bone left to support implants. The video below explains the process for placing a hybrid denture.
An implant bridge. An implant bridge just replaces the teeth—no replacement is made for any gum tissue. An implant bridge is also used when just a few teeth are missing.
What Are the Benefits?
Implant-supported dentures can improve the quality of your life in several ways:
They are stable and relieve common anxieties about dentures slipping around or falling out.
It's easier to eat and speak with them.
They are anchored and will feel more like your natural teeth.
Dental implants stimulate jawbone and help preserve it. Otherwise, when all of your teeth are missing, your body resorbs the bone.
Preservation of jawbone helps prevent facial sagging.
The work can be completed in phases. You can receive new dentures first and later receive dental implants to support them.
High-Quality Implant Overdentures Will Last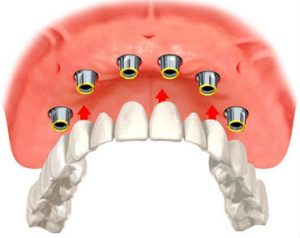 Implant-supported dentures can be a lifetime solution for stabilizing your dentures and preventing bone shrinkage. But be cautious about searching for a bargain. If shortcuts are taken or cheap fixtures are used to save money, serious mistakes can occur. Incorrectly placed implants can result in serious issues including:
Numbness
Pain
Tingling
Loose implants that need to be replaced
Any money you initially saved can be lost and extra time and expense required to remove and replace faulty implants.
Our dentists work closely with specialists who perform implant surgery. Either a periodontist or an oral surgeon will thoroughly review your medical and dental history to ensure you're a candidate for this treatment and to ensure proper planning and precise implant placement. We will provide you with high-quality cosmetic dentures that look natural. After the implants fuse with your bone, the dentures will be secured to them.
If you're interested in knowing if you're a candidate for implant-supported dentures, contact our office to schedule a complimentary consultation. Call us or complete our Request an Appointment form.