I went to see my dentist about repairing two teeth. Both are premolars that have had problems over the years and have both been capped. He suggested I have both teeth extracted, have bone grafting done, and then replace them with a dental implant and crown. The cost will be just over $9,000.00. I was fine with the plan but have recently developed some concerns. The bone grafting is done. Now, I'm in a three-month healing period using two temporary tooth replacements. From there, it will be time to place the implants and crowns. I've only had the Maryland Bridges for a little over two weeks and they have fallen off three different times. I'm beginning to wonder if this dentist has the skills necessary to do this procedure correctly. Do you think I should be concerned? If so, can I switch dentists in the middle of my procedure?
Mark
Dear Mark,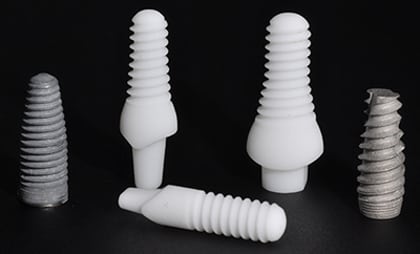 Yes, I think you should be concerned. There are a couple of red flags here for me. One is the choice of the "temporary" tooth replacement. A Maryland Bridge requires some tooth preparation for the bonding to hold properly. This preparation would include putting a notch in the tooth to hold the bridge wings. Anything that changes the structure of the tooth is not a temporary restoration. In order to get the tooth back to its original form would require dental bonding to be done. Most dentists would use a true temporary (and much less expensive) option such as a dental flipper.
The second issue here is that your dentist can't keep the Maryland Bridge in place. This means that even though he or she chose the wrong replacement, they don't know how it works. That is a huge warning signal to me that they are in over their head with your case. A bridge is not nearly as advanced a procedure as dental implants. If they can't get this bridge right I would not hold out much hope for your dental implants.
My recommendation is you switch dentists. Find one with post-doctoral training in dental implants. It will not matter that you are in the middle of your procedure. Your dentist is still under an ethical obligation to provide the new dentist with all the notes and diagnostics related to your case.
This blog is brought to you by East Cobb Dentist Dr. Cristi Cheek.