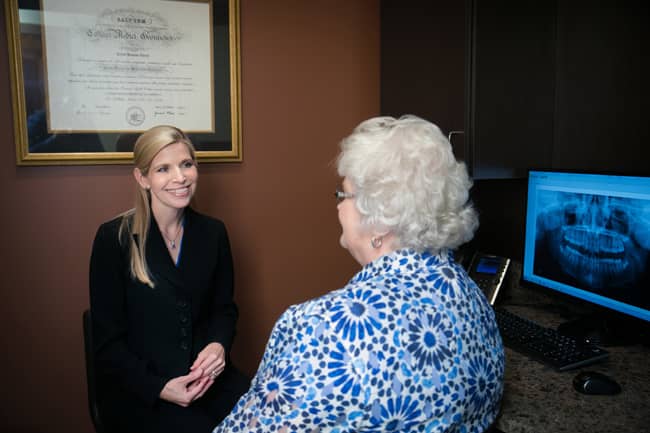 At Cheek Dental, we make your first visit a welcoming and positive experience. Your 80-minute appointment will focus on a very thorough comprehensive examination and assessment of your oral health. Generally, the dental cleaning is scheduled later.
Warm Welcome
Our front office staff will warmly greet you and invite you to help yourself to our beverage station. Although we encourage you to download and complete patient forms in advance of your appointment, you are also able to complete the paperwork when you arrive.
An assistant will take you into a treatment room to get acquainted with you and discuss any issues or concerns you have about your oral health. Dr. Cheek or Dr. Chandler will meet with you next, get acquainted, and further discuss your medical and dental history.
Comprehensive Exam
Your comprehensive exam will include:
Digital intraoral and extraoral photographs
Examination of your teeth, head, and neck
Analysis of your occlusion (bite)
Oral cancer screening of your tongue, cheeks, and other oral tissues
Periodontal probing to detect of signs of gum disease
TMJ evaluation
X-rays
We will offer you a blanket and movie glasses to increase your comfort and help you relax during your dental appointment. If you're anxious about dental appointments, we also offer nitrous oxide sedation.
The comprehensive examination appointment will not include a visit with one of our hygienists ("a cleaning.") Because our initial examinations are very thorough, the appointment is fairly long, so your visit with our hygienist is typically the second appointment. If it is important to you to have a cleaning at the initial appointment, please call us so special arrangements can be made.
After your exam, Dr. Cheek or Dr. Chandler will discuss the status of your oral health, tell you about any necessary treatment, and explain your options.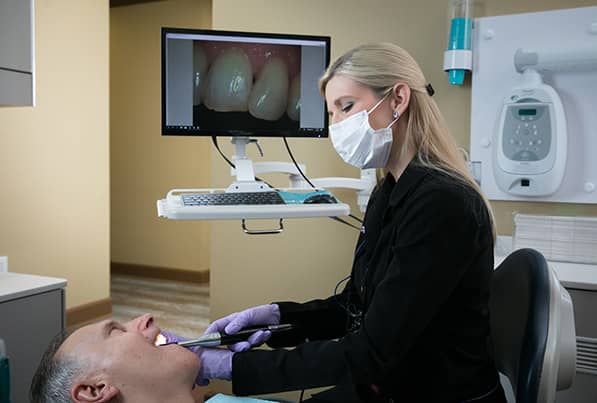 Our Patients' Perspectives
 "I visited Cheek Dental for the first time and saw Dr. Chandler. The admin staff was extremely pleasant, the dental assistant was very patient, and I never felt rushed. Dr. Chandler answered all of my questions and concerns before I could ask them! I think I've found my new dental home!"  – Michelle K.

"Ever since a co-worker told me Dr. Cheek caught the early signs of cancer in his mouth and effectively saved his life, I've been coming here, and I absolutely love it. The service is top notch, and I know I'm in good hands. I drive 40 minutes to the office, and it's worth it." – John H.
We look forward to your first visit with us and warmly welcome you to the Cheek Dental family.