I just had eight porcelain veneers done and now I found out one of them needs a root canal treatment. I've read that a root canal treatment can turn a tooth dark and I don't want that to ruin my veneer. I really like them. I can't imagine why I'd need a porcelain veneer. I've been so careful taking care of them because I'm happy I finally have a smile I like and I don't want it ruined. What do you recommend?
Lisa
Dear Lisa,
I'm concerned about why you needed the root canal treatment to begin with. I hope this wasn't the result of your dentist being too aggressive. When teeth are being prepared for porcelain veneers, it doesn't take much. At the most, your dentist should remove about half a millimeter.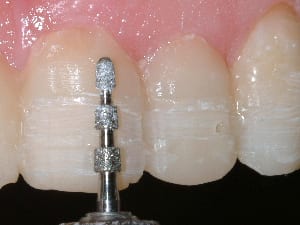 The photo directly above shows a depth limiting diamond bur being used to prepare some teeth for porcelain veneers. Using a tool like this helps protect the tooth from the dentist going too deep in the preparation. Some dentists get carried away and will reach the dentin. Others will actually do porcelain crowns and just call them porcelain veneers. When doing a crown the dentist has to grind the teeth down to nubs.
Protecting the Beauty of Porcelain Veneers with a Root Canal
There is a way to help prevent the darkening of the tooth which needs the root canal treatment. Most of the darkening comes from the root canal filling material itself. This can be significantly reduced by following the procedure I'm about to outline.
1. Have your dentist clean out all the material from the crown of the tooth.
2. He or she should then place a white fiberglass post into the root.
3. Fill the remainder of the space with a light/white colored composite material.
Doing this will delay any darkening for quite a few years.
This blog is brought to you by East Cobb Dentist Dr. Cristi Cheek.