A smile makeover can help your smile reach its full potential. It can enhance your appearance, increase your self-confidence, and improve your social interactions. At Cheek Dental we design stunning smile makeovers that look completely natural. We also offer Botox and dermal fillers for facial aesthetics.
What Is a Smile Makeover?
A smile makeover makes improvements to—or a complete transformation of—your smile using cosmetic dentistry. The best results are achieved by an artistic cosmetic dentist. Our dentists have artistic talent as well as advanced training and experience in cosmetic dentistry. A true cosmetic dentist provides treatment that is healthy for your teeth, aesthetically pleasing, and natural looking.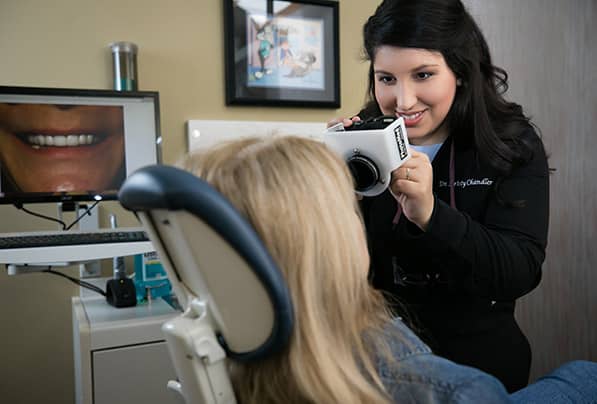 Ways to Transform Your Smile
Depending on the condition of your teeth and the imperfections in them, there are several treatment options. Dr. Cheek or Dr. Chandler will examine your teeth and listen to your smile goals to determine the options. A single cosmetic treatment or a combination of treatments might be recommended. Some possible options are listed below.
Porcelain veneers
Porcelain veneers are ultra-thin wafers of porcelain that are bonded to the fronts of your teeth. They are custom made to ensure they fit well and look natural. They correct a variety of imperfections in teeth, including;
Discoloration that teeth whitening can't correct
Gaps and spaces
Misalignment
Uneven or misshaped teeth
The photos below show how Dr. Cheek used porcelain veneers for teeth that were stained and uneven and had gaps between them. The patient's smile now looks healthy and bright.
Read more about this treatment on our porcelain veneers page. You can also visit our Invisalign page to learn about invisible braces that will align your teeth faster than traditional braces.
Teeth whitening
Professional teeth whitening helps break down deeply embedded stains. Drs. Cheek or Chandler will examine your teeth to determine if teeth whitening is an option for you. In the photos below, you can see how teeth whitening was used to remove stains and rejuvenate a patient's smile.
Visit our teeth whitening page to learn about Zoom in-office whitening and Opalescence Go take-home treatment.
Dental bonding
Chipped, cracked or discolored teeth can be restored with dental bonding. Bonding can also reshape or lengthen teeth. Our dentists have the tools and variety of dental composite needed to match your natural teeth and seamlessly conceal the imperfections in them.
The photos below show how our patient's teeth were uneven, poorly spaced, and poorly shaped. Dr. Cheek used dental bonding to remove the spaces between the teeth and shape them to create an attractive smile.
Read our dental bonding page for more information on this technique.
Smile Design
Our dentists involve you in the smile design process to ensure your smile makeover complements your facial features and personality. For example, if you receive a smile makeover with porcelain veneers, you can expect the following.
Dr. Cheek or Dr. Chandler will take pictures of your face and teeth.
You'll talk with her about your preferences for tooth shape, color, and length.
Our ceramist will create a wax model of your smile design.
You will examine the model and be able to request changes.
Provisional veneers are made for you to try on and experience the look and feel of your porcelain veneers.
With your approval, porcelain veneers are made. When you're certain you love them, they will be bonded to your teeth.
Ready to Transform Your Smile?
You can request an appointment for an exam or a ten-minute, complimentary consultation with Dr. Cheek or Dr. Chandler. They will discuss treatment options for a smile makeover and explain the results you can expect. Call us or complete our Request an Appointment form.