I've had four porcelain crowns on my front teeth for a bit over ten years. One of them has always had a slight defect, but you couldn't see it, just feel it if you rubbed your tongue over it. Now, I can feel it AND see it. It looks like a little line toward the bottom of the crown. Would this be considered a dental emergency? I don't want it to break when I am out in public.
Carol
Dear Carol,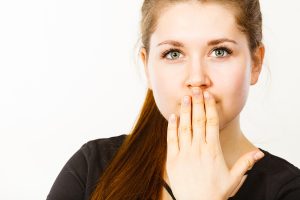 I'm glad you wrote. I would not consider this a dental emergency, but I would start making plans to get this replaced. There are a couple of considerations here.
Do you just want to replace all of them at the same time, or just one at a time as needed?
Are you happy with the color of your teeth?
If you choose to do them one at a time as needed, is your dentist an expert cosmetic dentist?
There are some benefits to doing them all at once, but the obvious drawback is that it will cost significantly more money. So, are the benefits worth the cost? First, you won't have to worry about when they are going to need to be replaced because you have already taken care of them. Second, you won't have to run to the dentist every time one of them is nearing the end of its life. You can go in and get them all replaced, one appointment and you're done. Whether that is worth it is dependent on your individual circumstances.
I wouldn't necessarily recommend replacing them all if they were just a few years old, but you've had yours for a while. Just don't get them all replaced because your dentist says that is the only way to match them. That is an indicator that he or she is not an expert cosmetic dentist and you want front teeth that are beautiful.
I mentioned tooth color earlier. The color the crowns are made with is permanent. If you are happy with the current shade of your teeth then you are good to go. If you are considering teeth whitening then the time to have it done is before you have your crowns made. This way the shade can match the new color. Teeth whitening does not change the color of crowns so if you decide to do it later, you will have to replace the crowns again in order to get them to match.
This blog is brought to you by East Cobb Dentist Dr. Cristi Cheek.