I recently had a crown break after 4 years. Obviously, I had to get it fixed and I wanted it done right away. My dentist doesn't do same-day crowns, so I went to another dentist. I have had seven other crowns so I know what they should feel like. Maybe this is a CEREC thing. This one is way too bulky. It feels like I've got a wad of something stuck on a back tooth.  I am even biting my tongue with it. She's filed it, but it still is a problem. Should I have her keep filing it?
Brandon
Dear Brandon,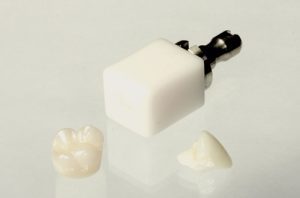 It is not because it is a CEREC crown. These should actually fit better because they are milled more by a computer, which increases the precision. The problem you are facing here is the dentist. Don't let her do any more grinding of your teeth. It really just needs to be replaced. Aside from being uncomfortable,  it can cause problems. Consistently biting your tongue can lead to a developing tumor.
Here is what I think happened. In most cases, the CEREC software is used when the tooth is already intact. It will scan the existing tooth to determine how to build the new one. Because you had already had a crown and it was broken, she didn't have that. The software is able to be used to build one from scratch. However, she doesn't seem to know how to do that. This crown needs to be reshaped. Don't let her try to do this while it is cemented in your mouth. It is nearly impossible to do it correctly that way. For example, how will she shape the between your teeth?
What needs to happen is she needs to remove this one and make another one. I'll be honest, I don't think she is capable of doing this properly with the CEREC software. She doesn't have the knowledge and skill with it yet. You need to ask her to do this the traditional way. I know it will take longer. You're probably thinking you could have just stayed with your original dentist and gotten a traditional crown. While that is true, I will say, your crown that broke should have lasted MANY more years than it did, so I have little confidence in that dentist as well.
My advice, give this dentist a chance to get it right the traditional way. If she can't, get a refund and find a better dentist who can.
This blog is brought to you by Marietta Dentist Dr. Cristi Cheek.