I had a dental implant placed about six months ago that was recently removed. My oral surgeon suspected there was some bone loss because things weren't progressing as expected. I haven't even gotten to go to the dentist yet for the restoration part. Though he perforated the sinus cavity, he said that was normal and it was only a few millimeters. Instead, he believes the problem is the fact that no bone integrated with the implant, which isn't normal. He said the good news is that it made it easy to remove the implant. He wants to do bone grafting and then try again. Is there anything you think I can do differently this time to improve my odds?
Karen
Dear Karen,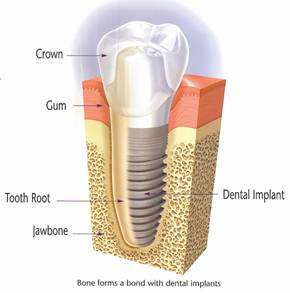 There are a few problems here. The first is that the oral surgeon did not have the dentist determine the placement of the dental implant. It is always the dentist who should determine placement. Before doing anything else, I want you to see a dentist with post-doctoral training in dental implants to look at your case.
A second issue here is the perforation of the sinus cavity. I know he said it was "only" a few millimeters, but that is a HUGE amount in the dental world. It sounds to me like he did not do adequate diagnostics to prevent this. He should have taken x-rays as well as a CT scan to get a good view of the landscape, including a 3-Dimensional view.
Bone grafting can be a good solution if you do not have enough bone to retain a dental implant. Again, though, he should have known this ahead of time by doing adequate diagnostics. Had he done that, your dental implant failure could have been avoided altogether. See a good implant dentist and then you should have an idea where to go from there.
This blog is brought to you by East Cobb Dentist Dr. Cristi Cheek.