Some patients want dental implants but have lost too much bone structure. One option is to have bone grafting to build up the bone. This adds to the cost and adds several months to treatment to allow the bone graft to take.
Another option is All-on-4 dental implants. This procedure can provide you with the secure implants you want without having to take the additional step of bone grafting.
Without Bone Grafting, How Are They Secure?
The secret is in their positioning. As the name implies, four implants are used on each arch that requires implants. The two front dental implants go in vertically, the same way their traditional counterparts do. The remaining two will go in at an angle. This configuration is more secure than four vertical implants because it adds resistance to displacement for the implants. Where we can, we may recommend placing six implants. In this case, we call the procedure All-on-6 dental implants.
The All-on-4 Dental Implant Procedure
We will start with a comprehensive exam that includes x-rays and a CBCT scan to give us three-dimensional imaging of your bone. This is important for precise placement of the implants. We want to be sure the implants don't perforate bone and avoid any nerves. The implants will then be surgically placed. There will be a time of healing before the denture is permanently anchored to the implants. During this time, the bone will fuse to the implants, a process known as osseointegration. Meanwhile, you will wear a temporary denture that will be placed the day of the surgery. Because you have this denture right away, the procedure is sometimes called Teeth-in-a-Day®.
Why Dental Implants?
While completely removable dentures are less expensive, they come with a host of problems. These issues not only affect your quality of life but can also cause more severe problems.
Even the best fitting dentures will reduce your chewing capacity by 50%. This limits your ability to eat the foods you enjoy.
Without dental implants, the entire force of the denture is born by your gums. This can lead to sores.
Removable dentures can slip when you eat or talk, which can be embarrassing.
In about ten or more years, you will feel the impact of facial collapse.
Preventing Facial Collapse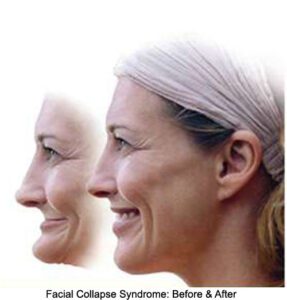 When your teeth are first removed, your body recognizes the loss of the teeth roots. In an effort to be as efficient as possible with your body's resources, it begins to resorb the minerals in your jawbone in order to use them elsewhere. This shrinks your jawbone significantly. Eventually, you won't have enough bone left to properly support your denture, leaving you needing to try to retain the denture with adhesives. The resorption of your lower jaw also makes you look years older than you really are. But with dental implants, your body recognizes the presence of the prosthetic teeth roots. As a result, it leaves the minerals in place, preventing facial collapse.
If you are looking for the best tooth replacement option, you may call our office to schedule an appointment, or click here to request an appointment online. Dr. Cheek or Dr. Chandler will go over all your options so you are fully informed to make the best choice for your circumstances.