CEREC® same-day crowns are a fast and natural-looking way to restore teeth. You can receive a dental crown in a single visit. It will be made in our office in minutes while you wait.
What Is a Same-Day Crown?
A dental crown is often referred to as a cap. A crown completely covers and protects a badly damaged or decayed tooth.
Same-day crowns are made in the dental office using CEREC CAD/CAM technology. This computer-assisted technology is used to take digital impressions of your teeth that are transferred to a milling machine for a precisely fitting crown.
Advantages of Same-Day Crowns
Precise – Digital impressions of your teeth are used to prepare your natural tooth for the crown and craft a custom crown in our milling machine.
Natural-looking – Your doctor will select a ceramic block that matches the color of your natural teeth. The block will be placed in a milling machine to craft a crown that matches the shape and shade of your teeth.
No uncomfortable temporary crown needed – Your same-day crown will be checked for fit. The dentist will ensure that there is no discomfort when you bite down or chew. If you're pleased with the way the crown looks and feels, she will polish it and bond it your natural tooth. You'll leave our office with a permanent crown—not a temporary one that can irritate your tooth or gums or come off prematurely.
Metal-free – The crowns are all ceramic—metal free. If you're allergic or sensitive to metal, you don't have to worry about a reaction to your new crown.
Save time – Only one appointment is needed. Traditional crowns are made based on impressions of your teeth that are sent to a lab. When the crown is ready, a second appointment is needed for it to be bonded to your tooth. But with CEREC same-day crowns, all phases—taking impressions, making the crown, and bonding it to your teeth—are completed in our office, in just one visit. And it only takes about 20 minutes to make the crown.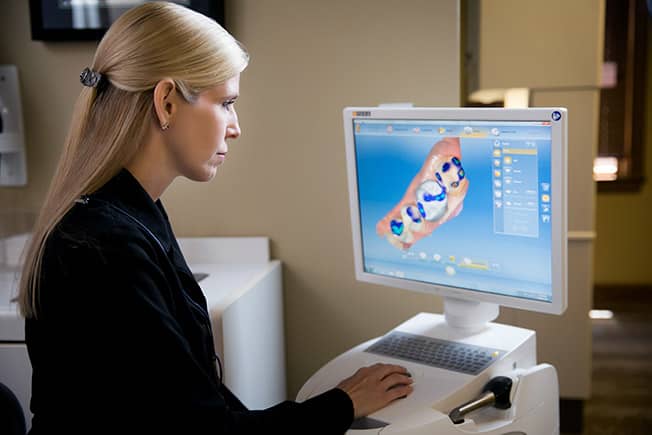 How Long Do They Last?
If you take good care of your CEREC same-day crown, it can last ten to twenty years or more. Brush your teeth twice daily and floss between them and the crown to prevent gum disease and decay. Let our dentists know if you clench or grind your teeth, because these habits can put extra stress on crowns and damage them. They will explain what can be done to protect the crown.
Interested in CEREC Same-Day Crowns?
If you're interested in a same-day crown to restore a tooth, call us to request an appointment for an exam, or complete our Request an Appointment form.