A smile makeover with porcelain veneers will enhance your facial appearance and boost your confidence. It only takes a few visits to transform your teeth into the perfect shape, size, and color and give you the smile you've always wanted. In East Cobb, Dr. Cristi Cheek and Dr. Kristina Chandler each have training in cosmetic dentistry to provide porcelain veneers that look beautiful and natural.
What Are Porcelain Veneers?
Porcelain veneers are very thin wafers of porcelain that are customized for a precise fit and bonded to the fronts of your natural teeth. Porcelain is a ceramic that can mimic the characteristics of natural teeth, including color, translucency, and gloss. They are used to correct a wide variety of appearance-related problems. If teeth are stained, porcelain veneers can give you a smile as bright as you want, one that will be pretty much impervious to any further staining. If your stains are particularly stubborn and don't respond well to bleaching, they can be covered beautifully with well-done veneers by an expert cosmetic dentist. Crooked teeth can often be corrected in two appointments. Gaps, short teeth, or chipped teeth can all be fixed.
The Difference a Dental Artist Makes
Although any general dentist can provide you with porcelain veneers, it takes an artistic cosmetic dentist to create lifelike smile makeovers. A smile makeover should complement your personality and facial features so it looks and feels uniquely your own.
In addition to artistic talent, a true cosmetic dentist will have received advanced post-graduate training to understand what techniques and tools are required to give you the exact smile makeover you want. Drs. Cheek and Chandler continually train to ensure you get amazing results. They guarantee that you'll love your new smile with porcelain veneers before they are bonded on.
Porcelain Veneers Designed Exclusively for You
The first step is to ensure your teeth and gums are healthy and sound and that you are a candidate for porcelain veneers. One of our dentists will examine your teeth and take digital x-rays.
You will become part of the design team as Dr. Cheek or Dr. Chandler talks with you and listens closely to understand your smile goals. You'll also view our catalog of patient smile makeovers to help you make decisions about your smile design, including:
The design process continues with the following steps:
Your input, personality, and facial features will be included as Dr. Cheek or Dr. Chandler uses their artistic talent and experience to make a wax-up of your smile design.
Your natural teeth will be prepared to ensure your porcelain veneers will fit well and look natural.
If the wax-up reflects the final result you want, it will be used to make provisional, or temporary, veneers.
You'll be able to wear the provisional veneers as a preview of how your porcelain veneers will look and feel. You'll likely love them, but if you have any hesitation, the temporary veneers will be adjusted or remade until they are exactly what you want. Our master ceramist will use them to make your final smile makeover.
Your porcelain veneers will be placed on your teeth and you'll be given time to examine them and ensure they look and feel natural.
When you're certain that your smile makeover perfectly meets your goals, the veneers will be bonded to your natural teeth.
As the before-and-after photos below show, our patient's teeth were short and worn you could barely see the upper teeth when she smiled. Porcelain veneers were used to resolve the issues and create a naturally beautiful smile.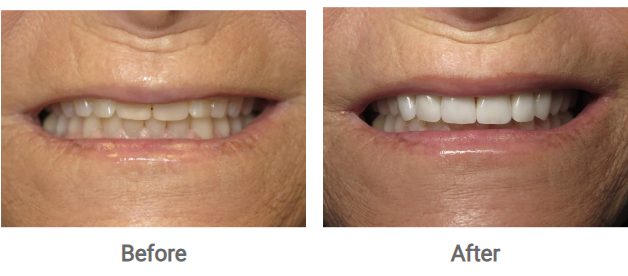 Request a Porcelain Veneers Complimentary Consultation
If you are interested in porcelain veneers that come with a beautiful smile guarantee, call us or complete our Request an Appointment form for a ten-minute complimentary consultation with one of our dentists. Or, if you're ready to start the process, request an appointment for an exam.
"My appointment today was for placement of my permanent dental veneers. I could not be more pleased. The whole process, from my initial visit to fruition, was painless. Dr. Cheek explains everything in detail and is very professional, yet friendly. Her work is meticulous. Thank you, Dr. Cheek, for my beautiful smile!" – Therese S.
"I had to have extensive work done on my front teeth where I had to have my dental bridge replaced. Dr. Chandler gave me so much extra care and attention throughout the whole process which meant a great deal to me. She is patient, kind and most importantly, she does beautiful work! I couldn't be happier with the end result." – Brooke B.