I've lost quite a few teeth over the years, several not replaced, and have three dental bridges, all of which are over 30 years old. Because of this, I've had a hard time eating. I'd like to replace everything and get a dental implant denture. Will my medical insurance cover this because it is affecting my health?
Stephanie
Dear Stephanie,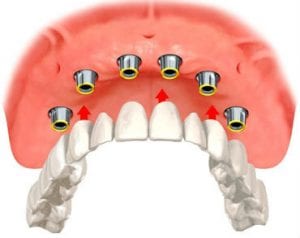 Dentists get this question a lot. While it is true that not having teeth affects your overall health, medical insurance almost always has a dental exclusion in their policies. This is unfortunate because while many people have health insurance, not nearly as many have dental insurance. All that being said, you need teeth. If you're removing or lost all of your teeth, the best replacement would be dental implants. It sounds like you already know that though. What you may not know is how important they are.
Once your teeth are gone, your body senses there are no longer there. Always striving to be efficient with its resources, it will then resorb the minerals, which your jawbone no longer needs to support your teeth, in order to use them elsewhere. Unfortunately, this begins to shrink your jawbone. In as soon as ten years, you'll start to notice it is hard to keep your dentures in. A short time after that and it will become impossible. This is known in dentistry as facial collapse. Once this happens, you won't even have denture teeth to eat with. Talk about impacting your health!
The solution to this is having implant-supported dentures, as you've expressed. The dental implants signal to your brain you still have teeth. Because of that, it leaves the minerals intact, thereby protecting your jaw.
Paying for Implant Supported Dentures
While your medical insurance won't cover the cost. There are some ways to make this easier. First, most dentists don't make you pay for the whole procedure upfront. Instead, you'll cover the surgical part first. Then, when you've had time to heal and the bone has integrated with the implants, your dentist will then do the denture and you can pay the second part.
I realize, for many people even, that can be challenging. Some dentists let you pay it out as you go. Those who don't almost always offer Care Credit, which is a medical credit card. They'll pay for your procedure upfront and then you pay them out. They have low-interest payment plans and you get to choose which plan you go with.
This blog is brought to you by Marietta Dentist Dr. Cristi Cheek.