I'm not understanding my bill. I've had regular crowns before and know their price. Those crowns take two appointments, They also require a temporary crown which is more material. Why is it when I got a CEREC crown, which is done in one appointment and doesn't require a temporary crown that they charged me the same amount. Secondly, the stupid thing doesn't match my teeth like my other crowns do. So it costs the same and looks fake. Great. Tell me why this is an advancement?
Dan
Dear Dan,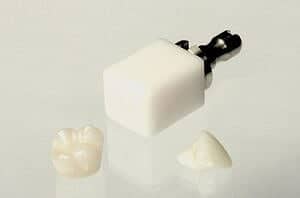 There are a couple of misconceptions here I hope will help you with your questions.
The Cost of CEREC Crowns
While I can see where you would think, because of the reduced appointment and lack of temporary crown, that the CEREC crowns would cost less, there is something you're not considering. The technology isn't cheap. They cost dentists at least $100,000. That's a lot of money. Yes, they're saving on lab fees, but they're still having to pay for the CAD-CAM technology.
The Appearance of CEREC Crowns
It's easy to misunderstand what makes a dental crown look beautiful and natural. While some materials are easier to work with, it's not the material which creates the natural beauty of the crown.
It's the skill of the dentist.
You want a dentist who has invested time and training in creating beautiful smiles. Look at their smile gallery. This will give you some idea of what type of results they get.
Unfortunately, there's not a way for you to get a refund unless the dentist is willing if the crown is functional. You can ask him for one, but it is completely up to him.
Talk to your dentist about how you feel about the crown's appearance. He may be willing to re-do it.
This blog is brought to you by East Cobb Dentist Dr. Cristi Cheek.