I have a few dental implants in my mouth already and may soon need another if I can't save this latest tooth. I'm writing because I recently read that titanium can cause neurological problems. Do you think I should switch mine out for the zirconia dental implants?
Ethan
Dear Ethan,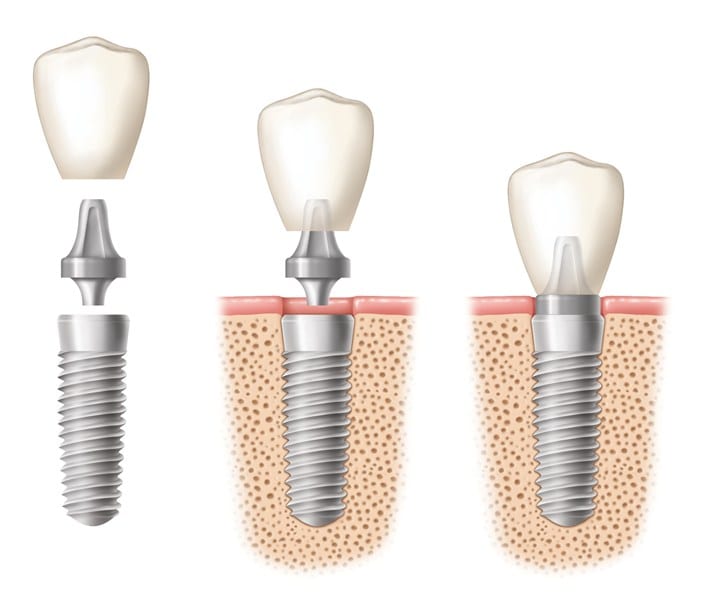 I'm not sure where you read this. Is it possible it was an article on the internet? While a wonderful tool which allows for the free flow of information, we have to remember not everything we read is accurate. There is no current scientific literature that I am aware of which backs up that claim. Instead, I see the opposite. Titanium has been used safely for decades. It's very biocompatible.
You may be aware its uses go far beyond just dental implants. It's also used in hip and other joint replacements as well as a host of other purposes. It's been proved to be very safe. I wouldn't switch out your implants unless you had a medical reason. Even patients with metal sensitivities, rarely have an issue with titanium.
I don't want you to think I am opposed to zirconia dental implants, I just don't want you to unnecessarily switch perfectly good implants. Additionally, if you do remove the first implants, it will require another procedure in addition to the replacement surgery. Removing the dental implants means some bone will be removed as well. Because bone is so necessary for retaining your dental implants, you'll need to have bone grafting done in order to have enough retention.
Zirconia Dental Implants
Zirconia is very strong and has been dubbed ceramic steel. It can uphold the pressures of biting forces. The only downside to them, at this point, it doesn't have the same long-term tracking record as the titanium counterpart. This is simply because they haven't been in use long enough for us to know enough about their longevity. It's possible they'll hold up equally well. We just don't yet know.
Getting a Beautiful Smile with Dental Implants
It's always important to think long-term. If you do decide you want to switch. First, you'll want to make sure you use a dentist who is both experienced in placing dental implants, but also skilled in cosmetic dentistry. This way you can know the implant crowns will blend and match your teeth in such a way that it looks completely natural. This is also an opportunity to upgrade the appearance of your smile.
Whatever color the crowns are made initially is permanent. If you've considered whitening your smile, the time to do that is before the crowns are fashioned. This way, they can be made to match your brighter, white smile. Once they're completed, teeth whitening won't work on them. Only your natural teeth will whiten and your crowns will stay the same. It saves you money in the long term to have the whitening done ahead of time.
This blog is brought to you by East Cobb Dentist Dr. Cristi Cheek.