I've been considering getting same day crowns. They sound convenient and I'm going on the assumption they look natural. If that's wrong, please correct me so I don't make a mistake I'll regret. However, are they a lot more expensive than the regular ones?
Isabelle
Dear Isabelle,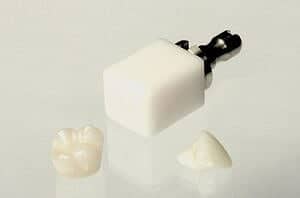 First, we'll cover the look of CEREC crowns versus traditional crowns. Whether or not any type of dental crown looks natural and attractive, depends on the cosmetic skill of the dentist. Therefore, when you are looking for a dentist who utilizes CEREC technology make sure you check out their cosmetic skill as well.
You can do that by asking to see samples of work they've done on dental crowns. They can be made to look as natural and translucent as your healthy teeth.
The one area where you'll have to be even more careful is when it comes to a crown on a front tooth. Only the best cosmetic dentists can do that because CERECs are milled from a single block of porcelain.
The dentist will need to know a lot about color theory and how to use a variety of color "stains" to give it the texture variety of your natural teeth. If you look closely at your teeth, you'll notice they're not the same color all the way down. Instead certain parts of the tooth are more opaque than others.
The Costs of CEREC Crowns
The machines the dentists purchase can set them back six figures. Often they're making monthly payments of $2,000 to pay towards that debt. However, that doesn't necessarily mean the CEREC crowns will cost much more than their traditional porcelain crown counterparts.
The reason for this is when they use the CEREC machine, they're not having to pay for a lab to manufacture the crowns. Either way it costs the dentist something. Bear in mind, that each dentist sets their own fees so that won't be universal.
This blog is brought to you by East Cobb Dentist Dr. Cristi Cheek.