I wanted to get a single dental implant. My dentist felt there wasn't enough bone in the area after doing his diagnostics and told me I could either get bone grafting done to have the implant or get a dental bridge. I really wanted the implant, plus I didn't want to crown two healthy teeth so I opted for the bone grafting. We did that and after the healing time we went to do the implants. But, he told me the bone grafting didn't work and is now suggesting I go ahead and get the bridge. Two surgeries later and I'm still without a dental implant. He actually has a good reputation for implants so I'm kind of surprised. Should I have gone to an implant specialist?
Stacey
Dear Stacey,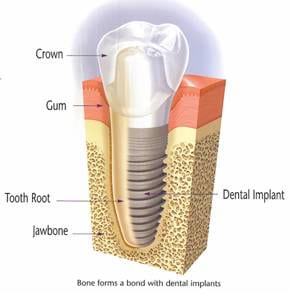 Technically, there isn't a recognized specialty in dental implants. It is up to the dentist how much training they receive as well as whether they'll do the whole procedure or divvy it up with an oral surgeon. It is possible your dentist is very good with the implant procedure but just now learning how to do the bone grafting aspect. It is tricky and everyone starts somewhere.
What I like about your dentist is his integrity. Some dentists, with more pride than integrity, would have gone ahead and placed the implant so you wouldn't have known they don't have bone grafting down yet. Then, after a period of time, your dental implant would have failed and there'd be no way to tie it to his error. He kept that from happening to you.
Getting Your Dental Implant
You basically have two choices at this point. You can go ahead and get the dental bridge or you can do the bone grafting and dental implant procedure again. Getting a dental bridge is a perfectly acceptable solution. However, as you noted, it does require placing crowns on two perfectly healthy teeth in your particular case.
If getting the implant is important to you, I'd ask your dentist for a recommendation for a good oral surgeon to re-do the procedures for you. One word of caution. After your bone grafting procedure is done and healed, visit the dentist again for him to decide on the best placement of the implant. He and the oral surgeon need to communicate before the implant surgery in order to ensure it gets placed in the correct position.
This blog is brought to you by East Cobb Dentist Dr. Cristi Cheek.