I had six dental implants placed. In the week since they've been placed, three have fallen out. These are expensive. Should I have to pay for ones that fall out? Do you think the others will fall out? I've already paid for 75% of the fee.
Kenneth
Dear Kenneth,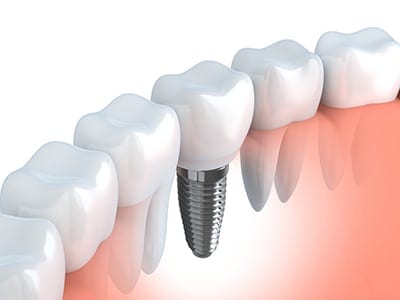 No, you should not have to pay for these dental implants. While it is true that there are times a dental implant will fail for unknown reasons, in general, dental implants have a 95% success rate. Thus far, your dentist is down to 50% and I have little confidence the others will stay in either. Most of the time when an implant fails it is after the load has been placed on them. Yours failed before there was even a load placed on them. The first thing I would want to know is why these three have failed. I'd like you to see another dentist for a second opinion. Do NOT tell them who the dentist was that placed them. Just let them know you have lost them in under a week and want to know if they can diagnostically tell you why.
Some Causes of Dental Implant Failure
Lack of bone support. As you can see from the image above, dental implants require bone support for them to be retained. Your dentist should have done enough diagnostics to determine whether or not you had enough bone support. If you didn't, a bone grafting procedure would have been necessary before proceeding.
Incorrect placement of the dental implant fixture. This can also be the result of poor diagnostics.
Infection. This can be because of poorly fitting fixture.
Using substandard implant fixtures. Some dentists will try to save money by purchasing their dental implant fixtures overseas which have fewer regulations. This usually results in dental implant failure. Though, most often this happens further down the line where the patient may not know it was because of substandard materials.
Premature loading. This is when the dentist puts stress on the implant before it has properly integrated with the bone.
Medical issues the patient has, though this is not as common and your dentist would warn you ahead of time of any real risk factors.
How to Get this Fixed
Tell your dentist you want a refund. You have a very good case. If he gives you any guff about it let him know you will be speaking to the dental board. That should sober him up some. Unfortunately, you will also need some bone grafting at this point. Take any diagnostics he did with you and the dentist can let you know if you didn't need the grafting before. If you were good to go and he messed up another aspect of the implants, then he should have to pay for the bone grafting as well. If you already needed it ahead of time, then you'll just have to go ahead and pay for that.
When you go to have this redone. Look for a dentist with significant dental implant training.
This blog is brought to you by East Cobb Dentist Dr. Cristi Cheek.