When it comes to cosmetic dental work, you really need to go to a dentist who has invested time in the requisite training to create beautiful smiles. There isn't a recognized specialty in cosmetic dentistry where you are officially now a cosmetic dentist. Any general dentist can do cosmetic work. This is where most of those smile makeover horror stories come in.
Let me illustrate with a proper understanding of teeth whitening. Most people understand that bleaching your teeth can get rid of years of stains, such as the pigments picked up from staining foods and beverages. However, it will also whiten the natural pigment of your teeth.
Unfortunately, many family dentists who dabble in cosmetic work don't understand this either. Dentists traditionally used the shade guide seen directly below.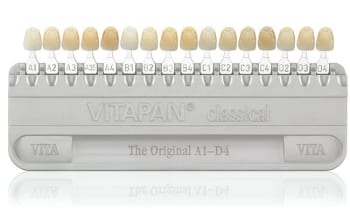 This matches the natural pigment of teeth and darker with various levels of staining. However, when people started whitening their teeth, that changed the rules. The lightest shade was now too dark to match to the new colors now being seen on teeth. The problem comes when a dentist inexperienced in cosmetic work doesn't understand this.
A patient comes in for a smile makeover and decides on porcelain veneers. They tell their dentist they want a very white smile. The dentist picks the lightest shade on the guide thinking he's safe. When the veneers are placed, they are much darker than the patient's natural teeth. Why? Because he or she has done teeth whitening.
Getting Your Smile Done Right
So how does a dentist get the right color? A true cosmetic dentist will invest in the updated shade guide, seen directly below.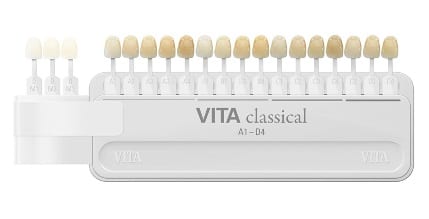 This allows the cosmetic dentist to get a better match. This, of course, isn't enough to give you a beautiful smile, but it's the bare minimum for a match. Before seeing any cosmetic dentist, make sure you look at their smile gallery first. Just make sure they posted actual cases the dentist has done and not just stock photos. If the before and after pictures don't blow you away, don't waste your time.
If you do like the photos, then its time to check their reviews. This one way to find out what type of chairside manner the dentist has and how good they are at listening to their patient's desires for their new smile.
This blog is brought to you by East Cobb Dentist Dr. Cristi Cheek.