I've had removable dentures for 23 years. A friend of mine recently got dental implant dentures. These look so much nicer than my teeth and she can eat anything she wants. Is it too late for me to have a pretty smile? I've spent my lifetime embarrassed by it.
Elaine
Dear Elaine,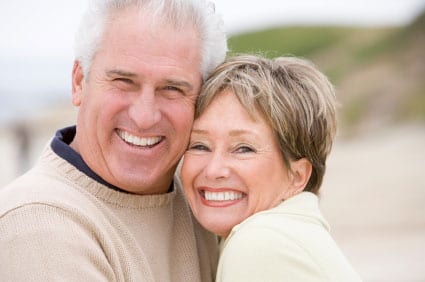 I'm sorry you have been embarrassed by your smile. The great news is it is never too late for you to get a beautiful smile. The key is in the dentist you choose. Doing a smile makeover is not taught in dental school. As a result, it is up to the dentist as to how much post-doctoral training they receive, if any, in creating beautiful smiles. Additionally, there is some natural artistry that is necessary as well, as with any art.
As to the dental implants themselves, because of the length of time you have been in dentures, there will be significant bone loss. That will have to be addressed in order for you to have a successful chance for true retention of your dental implants. The integration with the bone is imperative. The best way to address this is to have a bone grafting done. This will build back up the missing bone that you will need for osseointegration.
Once that is healed, you can have the implants placed. There will be a second period of healing necessary after the implants are placed. From there, you can have your dentures anchored to the new implants. This is known as implant overdentures, sometimes called implant-supported dentures.
Finding the Right Dentist
With the right dentist, you can have a gorgeous smile you will be proud to share with the world. However, choose carefully. The first thing you will want to do is make sure they have the training they need to place dental implants. Take a look at Dr. Cheek's qualifications to get an idea of the type of training you want in your dentist.
Once you are assured they are qualified to place your implants, be certain to look at their smile gallery. This will give you an idea of what type of results they can provide you when it comes to creating a beautiful smile for you.
This blog is brought to you by East Cobb Dentist Dr. Cristi Cheek.