I'm in the middle of cancer treatments, which comes with thousands of dollars in medical bills. I think it's the stress but I suspect I've started grinding my teeth again because my TMJ is acting up. When I first had it, the dentist made me this device. I no longer have the device but noticed the stores have something similar that's a one size fits all. Could I just get that? I don't have a lot of money right now and I need to deal with this jaw pain.
Harriet
Dear Harriet,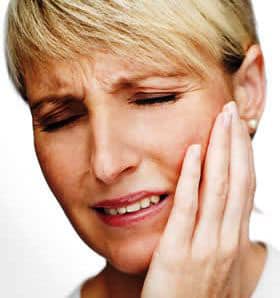 First, let me say I'm sorry for what you're going through. I know several people with cancer and it's not an easy treatment plan to deal with. You're in our thoughts. Second, I understand the cost issue. Here's what I'm going to suggest.
If the absolute only thing you can afford is the store bought mouthguard, get that. It's better than nothing and will at least protect your teeth from the grinding. However, because of its poor quality, you will grind through it and need to purchase them multiple times until you stop grinding.
However, TMJ devices are a tad different than just a mouth guard. While a mouth guard protects you from grinding, the TMJ device will reposition your jaw to a healthy position if it's out of alignment. The store-bought device will not do that.
See your dentist to find out if the jaw pain is from the grinding or something to do with alignment. If it's grinding and you want to stick with the store bought device, go ahead. If it's alignment, you'll need professional treatment.
There are insurance policies that will at least cover it partially. If your insurance won't cover it, you can try Care Credit. It's a medical credit card that allows you to get the treatment and then pay off the cost in low-interest payments. No-interest plans are also available.
Dental Care and Cancer
Most doctors will let you know this, but it is extremely important you keep up your regular dental care during your cancer treatments. Chemo and radiation play havoc on teeth. You'll have unexpected cavities, even if you've never had any before if you don't get regular treatment.
A small bit of prevention will protect you from needing dental crowns or worse.
This blog is brought to you by East Cobb Dentist Dr. Cristi Cheek.