I had porcelain veneers placed a little over a year ago. I was told these were very stain resistant. What I am finding is that in this short time they are getting stains around them. While I do smoke, I didn't think this should affect the porcelain veneers. Are they defective?
Stephanie
Dear Stephanie,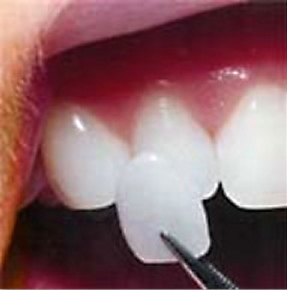 I wish I had a picture of these. It would help me see exactly what type of staining you are talking about. You were told correctly that porcelain veneers are very stain resistant. In fact, they are more stain resistant than your natural teeth. There are a few possibilities for what is going on here.
Staining on the Surface Area
If the staining is all over the veneers, then it could be that your hygienist accidentally removed the protective glazing by either using a power prophy jet or some acidulated fluoride during your last cleaning and check up. The glaze is what gives porcelain veneers their shine as well as helps protect them from stains. If that glazing is removed, it will not take long for the veneers to begin picking up stains.
A second possibility with these type of stains is that the bonding was not done properly. If there is a gap between the porcelain veneers and the tooth, this will mean that food and other types of bacteria can get trapped between the two. This will make the veneer looked stained. Worse than that, though, is the fact that the tooth will begin to decay.
A third possibility is that you don't really have porcelain veneers. Some dentists, who are less than ethical, will actually place composite and call it porcelain.
In all three of these scenarios, your dentist would need to replace the porcelain veneers.
Staining on the edges
If the staining is just on the edges of your teeth, than it is more likely that it is the bonding cement that is picking up the stains. When you first had your veneers placed, that bonding cement was polished to a nice shine. A year is enough time for those edges to pick up stains, especially from cigarette smoke. When that happens, it is just a matter of upkeep. Your dentist or hygienist can get in there and use ultra-fine polishing strips to get in there and get them as beautiful and shiny as they were the first day.
I would consider this a part of regular maintenance. It is not hard and does not cost much, but will help make your smile beautiful.
This blog is brought to you by East Cobb Dentist Dr. Cristi Cheek.