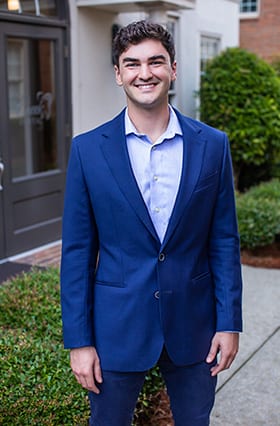 Dr. Brice worked every summer from age 9 until age 20 in his mother's orthodontic practice. With each passing year, he became keenly aware of the profound positive impact excellent dental care provides its patients. His passion was driven further as he began to appreciate that dentistry provides the unique opportunity to blend science and art to create lasting results with outstanding aesthetics.
Dr. Brice recently moved to the Roswell/Marietta area with his fiancée Emma, who is an elementary music educator. They met at University of South Carolina where they connected over a shared interest in music, art, and nature. We are grateful they chose to begin their future together in our area.
Practice Philosophy
One of the things he loves about dentistry is the ability to help patients who have struggled with dental anxiety.
"So many people have an inherent fear of going to the dentist," he says. "One of my favorite challenges of dentistry is helping my patients understand that dentistry doesn't have to be terrifying or painful. You can deliver quality care with a gentle, compassionate style that generates confidence from your patients. This becomes the foundation for building lasting, trustworthy relationships while enhancing and even changing lives in unimagined positive ways".

"The Doctor-Patient relationship is at the core of excellent dental care. This relationship is based upon commitment, respect, education, and understanding. Dentistry in nature is cooperative and relies on group effort and commitment from both the provider and the patient. It's easier to let a friend look around your mouth than a stranger, and that's why it is important that I can relate to my patients and that they can relate to me. My treatment philosophy is built around prevention and preservation with an emphasis on patient education. Patient education is critical, and learning why and how to care for our mouths is the foundation of successful and lasting treatment. That being said, there is a certain beauty to the restorative side of dentistry that defines the artist within the practitioner. A beautiful smile can change a life. There's a smile in every first impression, every relationship, every career. Aesthetics are extremely important in dentistry and are an emphasis of my restorative approach. The same is true of function, which walks hand in hand with aesthetics and sets the foundation on which beauty is built.

"Dentistry is a practice, and dentists are always in the pursuit of practical betterment and the refinement of quality. I am motivated every day by the desire to make a difference in people's lives and achieve my maximum potential as a health practitioner. I have spent years honing my style of communication to provide ease and accessibility to my patients across all ages and backgrounds. I know that I provide a special service within a profession of special services, and it is my goal to offer this service to my patients."
Education
University of South Carolina, graduated Cum Laude
Dental College of Georgia at Augusta University
Memberships and Awards
Academy of General Dentistry
American Dental Association
Georgia Dental Association
Professionalism and Ethics Committee, DCG Chapter