I want to get dental implants to replace some missing teeth. My dentist said he won't place them unless I quit smoking. Is this really necessary or is he trying to force his own agenda on me?
Kevin
Dear Kevin,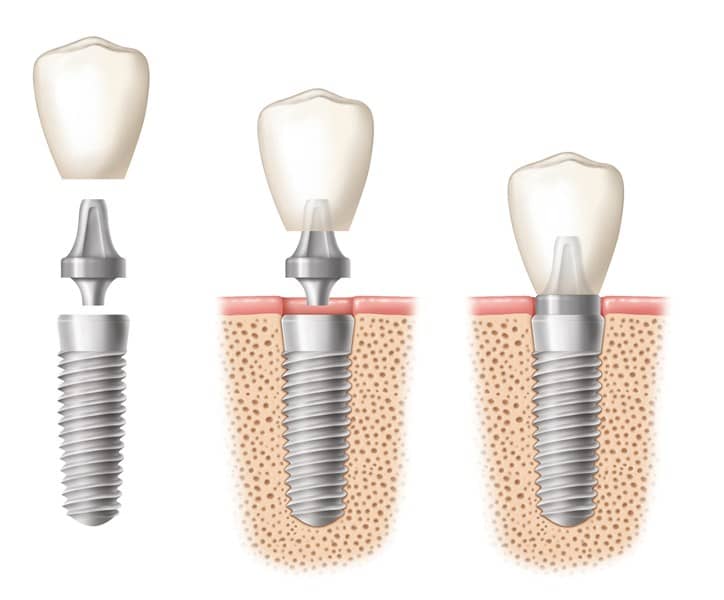 I don't think your dentist is trying to force an agenda on you. Instead, he's trying to give your dental implants procedure the best chance at success.
The Risks of Nicotine with Dental Implants
The Reduction of Blood Flow
Any form of tobacco, including cigarettes, vaping, smokeless tobacco, or dipping restricts your blood vessels. In some cases, it cuts off the blood flow completely.
Poor Osseointegration


One of the keys to a successful dental implant procedure is when the implants fully integrate with the bone. With reduced blood flow, this hinders healing which slows down the integration. This will lead to a loose implant which will fall out.

Increased Risk of Infection

Because your reduced blood flow hinders healing, it increases your risk for infection at the implant location. The leading cause of dental implant failure is an infection.

Options for Dental Implants When You Smoke

Obviously, you can accept the risk and move forward. You will be able to find a dentist willing to provide the procedure even while you smoke.

On the other end of that spectrum is to quit smoking. You can talk to your doctor about options to aid you in that process. There are options to help with the withdrawal symptoms.

Another possibility is to meet somewhere in the middle. You can quite for several weeks before the surgery and during the healing time. Then, when everything is secure, you can smoke again. However, you may find during that time period that you don't really need that tobacco as much as you thought you did.

A Cosmetic Consideration with Dental Implants

Smoking causes serious tooth stains. Often, patients want to get a whiter smile when they're replacing their teeth. You may want to consider getting your teeth whitened before having your implant crowns made. This way they can match the porcelain crowns to your new, whiter tooth color. Giving you a youthful, healthy looking smile.

This blog is brought to you by East Cobb Dentist Dr. Cristi Cheek.