I've been setting aside cash in my HSA for Invisalign treatment. It's something I set up at the end of last year. Long before coronavirus was a thing, I worked out what my co-payments would be and broke it up across the year so that I could start treatment at the end of this year. I'm 37 and work in an office setting, so for me, the big draw was that I wouldn't be stuck with a face full of metal braces as an adult. I know some people do, and I certainly don't think anything less of them for it, but I really wanted to keep things low key for myself.
Now COVID is in full swing and I'm still working from home. If my job gets moved back to the office, I'm told we'll all be wearing masks all day. That in mind, nobody will ever see my teeth anyway. That's a bit of a bummer, isn't it? If this becomes a "new normal," there may be no reason to do cosmetic dental work like braces because nobody will see your smile anyway. The point being, at least during treatment, chances are nobody will know what type of braces I go with. The traditional metal ones are a bit cheaper and I could probably start with treatment now if that's what I'm going with. But, if I hold out for the clear ones, I'm going to give it a couple more months. Is there still a benefit to using the clear ones or should I just jump in with the metal?
Thanks,
Debra
Dear Debra,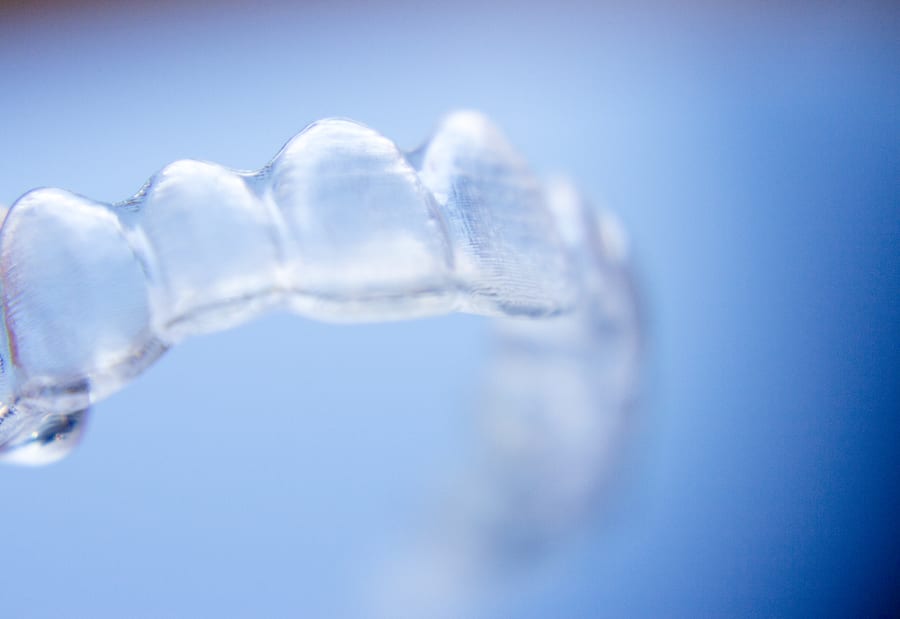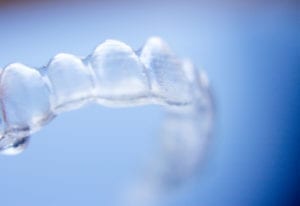 Great question! Lots of adults prefer the clear aligners simply for aesthetics, but there are quite a few other reasons to choose them over traditional braces as well. First, I'd like to address a separate issue. Braces often get lumped in with cosmetic dental treatment, but that's a bit misleading. When your teeth are misaligned or crowded, it's difficult to clean between them no matter how careful or diligent you are. That ultimately leads to cavities and gum disease. Orthodontics can be a vital tool in the long-term health of your teeth and gums. There is also an issue of a misaligned bite leading to TMJ Disorder and migraines.
That said, let's look at five more ways clear aligners may be the better way to go.
Invisalign may move your teeth faster.
Traditional braces are cemented to the front surface of your teeth. That's where they apply the pressure required to get teeth to move. Aligners give gentle nudges along a greater surface area, which means they can usually move teeth faster. Some cases with Invisalign are done in half the time as traditional braces.
You'll have fewer dietary restrictions.
Ever try eating a tough steak, corn on the cob, or caramel with braces? It's a nightmare! If you manage to do it without breaking anything, you'll still have your work cut out for you when it's time to brush after. Conversely, you can remove aligners when you're ready to eat and brush uninhibited after. Eat whatever you like…even popcorn.
It'll be easier to clean your teeth and gums during treatment.
Braces can be a great tool, but a lot of people have difficulty cleaning around them in general. To that end, it's quite common for people to develop stains or decalcified spots on their teeth during treatment. One of the most common questions cosmetic dentists get after teens finish braces is how to get rid of the spots that developed.
Additionally, many also develop gingivitis, where their gums become inflamed and will bleed when brushed. This is more because it is difficult to get floss or floss picks between the braces, so plaque builds up and bacteria flourishes. Again, you can remove clear aligners, so you won't have this battle on your hands with Invisalign.
Aligners are usually more comfortable and result in fewer dental visits.
True, there will always be a bit of discomfort as you swap out aligners, just as you'd have some discomfort during orthodontic adjustments, but at least with aligners, there's no metal digging into tender tissues and no wires that can snap and poke you. This also means you'll have few, if any, emergency dental visits. Considering treatment may go faster overall too, you could spend a whole lot less time in the dental chair.
You Can Simultaneously Whiten Your Teeth.
An underused benefit to aligners is they can double as teeth whitening trays. This enables you to straighten and whiten your teeth at the same time, giving you a mini smile makeover at a fraction of the cost.
Clear aligners are still a great choice, even if you're the only one who will ever know you're wearing them. Best of luck to you!
This blog is sponsored by East Cobb Dentist Dr. Cristi Cheek.