I had two porcelain veneers done. They were placed on my two front teeth because one of the teeth had a chip and he needed to do both teeth to match them. Here's the thing. Ever since I had the veneers placed, my gums have been inflamed and painful. I went back to the dentist and they insist they've never seen this before and accused me of not brushing them properly. That really annoyed me because I'm a grown woman and know how to brush my teeth. I'm especially careful to be diligent because these two porcelain veneers were quite expensive. I went back again and asked them to take a more careful look. At that point, he removed some cement that had been left. While that helped some, they still hurt. Do you know where I go from here?
Corin
Dear Corin,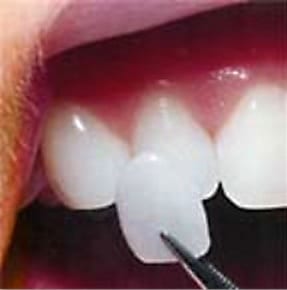 I'm pretty sure YOU are not the problem. In general, when someone gets work done on their teeth they are actually more careful about their oral hygiene, not less. It is more likely your dentist is the real problem here. I haven't examined your porcelain veneers, so it would be difficult for me to diagnose the exact problem, however, I can give you some possibilities.
The first thing that springs to mind you've already have some evidence for— not cleaning off all the excess cement. At one of your checkups, you mentioned he removed some cement, so obviously this was at least part of the problem. All the cement he removed in your follow up visit should have already been gone when your veneers were originally placed. This is a common issue with inexperienced cosmetic dentists. Smile makeovers aren't taught in dental school, so a dentist has to invest the time and training to develop the right skill.
The next two possibilities have to do with the margins. If the margins are uneven where the veneer meets the tooth it can cause issues. Sometimes the margin by the bottom of the gingival sulcus, can actually end up too far under the gumline. That would also lead to irritation.
An unlikely possibility, but still in the realm of possibility, is an allergic reaction to either the porcelain or ceramic used. These are rare but have been known to happen.
Where Do You Go From Here?
What you need is a second opinion from another cosmetic dentist. Don't ask your dentist for a recommendation. Whoever he picks will be unlikely to want to say something against his peer. When you go, make sure it is a blind second opinion. Don't tell them who did the work. Just tell them your problem with the gums and ask if they can see what is causing it. If they ask who did the work, tell them you want to know his diagnosis before you give that information.
The Correct Replacement for a Chipped Tooth

I want to mention one other thing. You said your dentist did this to repair a chip. Typically a chipped tooth would be repaired by dental bonding. This is what was done in the image directly above. My guess is your dentist recommended veneers because he doesn't yet know the bonding procedure. It's too late now, of course, but if this were to happen to you again, I'd want you to be armed with the right knowledge.
This blog is brought to you by East Cobb Dentist Dr. Cristi Cheek.