I've had dentures for quite a few years. I'm getting sick of them. They keep slipping. The last straw was when they fell out as I tried to blow out my birthday candles. Not only was it humiliating but they fell on the cake so there went dessert. Am I too old to switch to dental implants?
Tricia
Dear Tricia,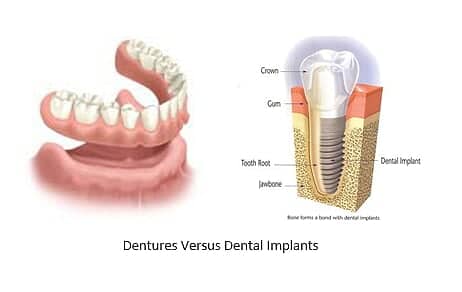 I'm sorry for that experience. That must have been very hard for you. The good news is the people who were at your party are people who love you. They likely felt nothing but compassion for you.
Age has nothing to do with whether or not you're a good candidate for dental implants. If you're in good health, you should be okay. However, that being said, you've had dentures for many years.
The reason they're sliding and falling out is because your jawbone has shrunken. It will continue to shrink as well. This is known as facial collapse.
You Can Still Get Dental Implants
What you'll have to do is have an additional procedure done known as bone grafting. This will build back up your jawbone so that you can have implants placed. The bone is imperative because it is what secures the implants.
It will be too expensive for you to get a dental implant for each tooth. Instead, I'm going to recommend you get implant supported dentures. Implant overdentures use about four to six implants that anchor to your denture.
They'll completely secure them and you'll not have to worry about any loss of jawbone. The implants are what help preserve them.
This blog is brought to you by East Cobb Dentist Dr. Cristi Cheek.